---
Editée sous licence de la vénérable Maison Larousse, après plus de deux ans d'effort,  nous avons publié la première encyclopédie du vin en Chine continentale. Il a fallu constituer une équipe, à la fois pour réactualiser les données, traduire et mettre en page cette somme d'informations qui concerne la globalité des vignobles du monde viticole. Le lancement a eu lieu au salon Vinexpo en 2013.
L'ouvrage est disponible partout en Chine https://claude-lada.fr/pour-trouver-nos-publications-en-chine/
…et également à la librairie MOLLAT à Bordeaux
---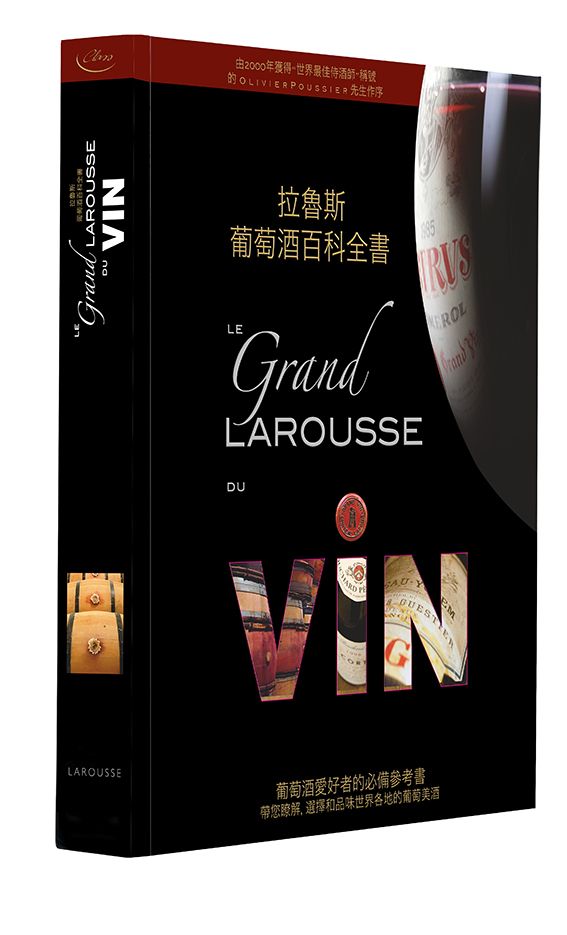 抽象 – Abstract – summary
這本百科全書內容豐富詳盡,其中包括-
葡萄酒的總體介紹:
不同的葡萄品種;
不同的園地自然條件和風土特徵;
葡萄酒生產的步驟和過程以及釀酒的方法和工藝……
教給你怎樣選擇,保存和品味葡萄酒:
怎樣識讀葡萄酒標;
怎樣以合理的價格購買葡萄酒;
怎樣建造或整理一處酒窖;
怎樣為一款菜式選擇搭配葡萄酒;
瞭解葡萄酒品味的方法和全過程的美妙藝術感受……
此著作會帶著你領略世界各地葡萄酒產區的風光:
法國各大葡萄酒產區和歐洲其它國家的葡萄酒產區,美國和加拿大的葡萄酒產區,拉丁美洲葡萄酒產區,當然一定不要忘記南非,澳大利亞和亞洲的葡萄酒產區;
葡萄酒出產國家和地區的地理圖示;
250幅世界各地葡萄酒產區的區域分佈細解圖。
600多張精美的圖片和一份詳盡的年份表。
 –
LE GRAND LAROUSSE DU VIN®
by EDITIONS CLASS MULTIMEDIA 2013
"Le Grand Larousse du Vin": the world reference of wines has now its Chinese language version
Class Multimedia, the editor of the Chinese version of the renowned encyclopedia of wine "Le Grand Larousse du Vin" has recently published the book after two years effort. This is the very first time such an encyclopedia of wines in native Chinese language has been published.
The beautifully illustrated 640 page large format hardcover Larousse encyclopedia aims to bringing to Chinese wine lovers and connoisseurs with exhaustive documentations and knowledge base, from wine's origin and its history to wine selection and appreciation and from the best renowned French Bordeaux to Indian Sula Vineyards.
Marketed as a marketing tool for wine vendors, the Chinese edition 拉魯斯葡萄酒百科全書 is only available in selected fine wine boutiques. In Mainland China, the Larousse encyclopedia is accompanied by a bottle of prestigious wine, packaged in a beautiful wood gift case and sold in the 50 wine stores of Le Vieux Monde® who is the exclusive China partner of the Class Multimedia. Wine culture education is considered by many as an ally for wine promotion, the exclusivity partnership is giving to Le Vieux Monde® distinguish competitive edges.
Available at the publisher :  contact@claude-lada.fr  – Delivery all over the world
Enregistrer